Oil, Acrylics, Watercolour, collage, digital art, portraits and alive illustrations
This is an oil painting, one of the first oil paintings I ever created. I depicted Ukrainian village in a late spring simultaneoiusly  being inspired by British classical authors, like Oskar Wilde. This painting was exhibited in Ukrainian children's gallery in 2013 and currently is a part of a permanent collection  in Frankfurt gallery.

This is a fantasy Augmented Reality illustration, It comes to life if you use artivive app or you can view it on the site in alive illustrations section. Contact if you want to buy a print, £ 50 for A4 £ 65 for A3.
This artwork is about a girl and her spirit animal-peacock. Their magical bond is emphasised by such visual cues as matching colours, repeating patterns  and overlap. the bird easily wakes her up from a deep sleep by spreading its tail and touching her hair . It expresses that emotions have a significant effect on the quality of life and that human manifestations come from within. I painted this artwork with watercolours and used digital collage techniques. Styles of this illustration are impressionism and magical realism.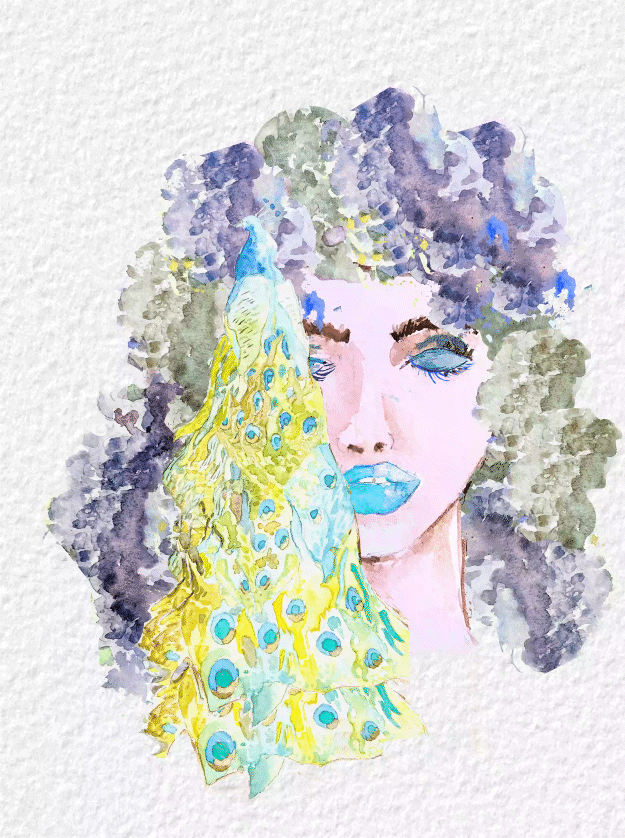 Yorkshire Sculpture Park, digital collage mi media
 Life Drawing of my dog. This illustration is animated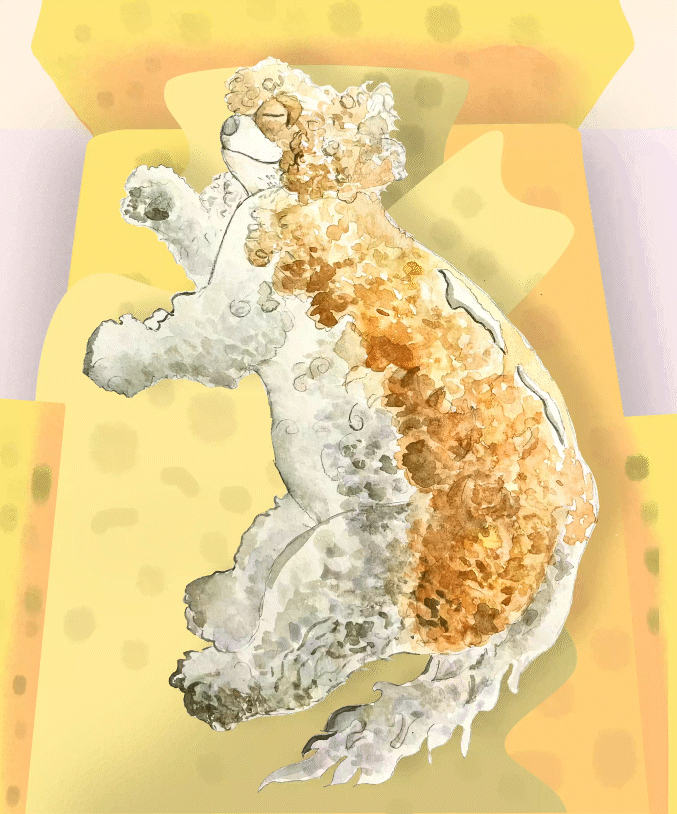 I really appreciate marine landscapes and water themes because of the soft rich colours and their enigmatic charm. In my opinion watercolours reflect the Beauty of water the most. You can find series of artworks  dedicated to nature and natural habitats real and imaginary. 
Mermaid character designs were created in a very experimental way. Illustrator Louis Marley "loulouillustration"  designed black and white charcoal character templates devided in body parts. A Second stage of design process was accomplished by me: I composed body parts into unite character, adjusted proportions and digitally shaded it with watercolours. The outcome is digital watercolour puppets easy to animate.  
Ukrainian national symbols Portraits, auto portraits, plant and character designs that you see below belong to the series of Ukrainian cultural paintings. I did this project because I come from UKraine and it's a big part of my identity.In order to depict culture accurately I studied symbolism in detail and reflected it in my work.My country used to be pagan before major baptism by knyaz Volodymir in 998 AC. This origin influenced folklore, fine art and the aesthetics of national costumes. Since my ancestors worshiped gods of natural forces and fertility there is a lot of vibrant floral textiles. 
In addition I took an inspiration from modern Ukrainian photographers, puppet designers  and from Art of Austrian Artist Gustav Klimt because in his style I could read love for nature, female figure and his philosophical approach.